Are you paying these 5 sneaky bank and credit card fees? There are a lot of sneaky fees in bank accounts and credit cards. Basically, anywhere a sneaky fee can be, it's going to be. One of the primary reasons for staying on top of your money every week is the chance to spot these fees because many of them you can avoid paying. The savings you find, while it might only be a few dollars here and there, can actually radically change how fast you hit your money goals.
Our guest, Paul Kesserwani from Cushion.ai, is here to share the top five sneaky bank and credit card fees you need to know, what to do about them, and how they can transform your finances.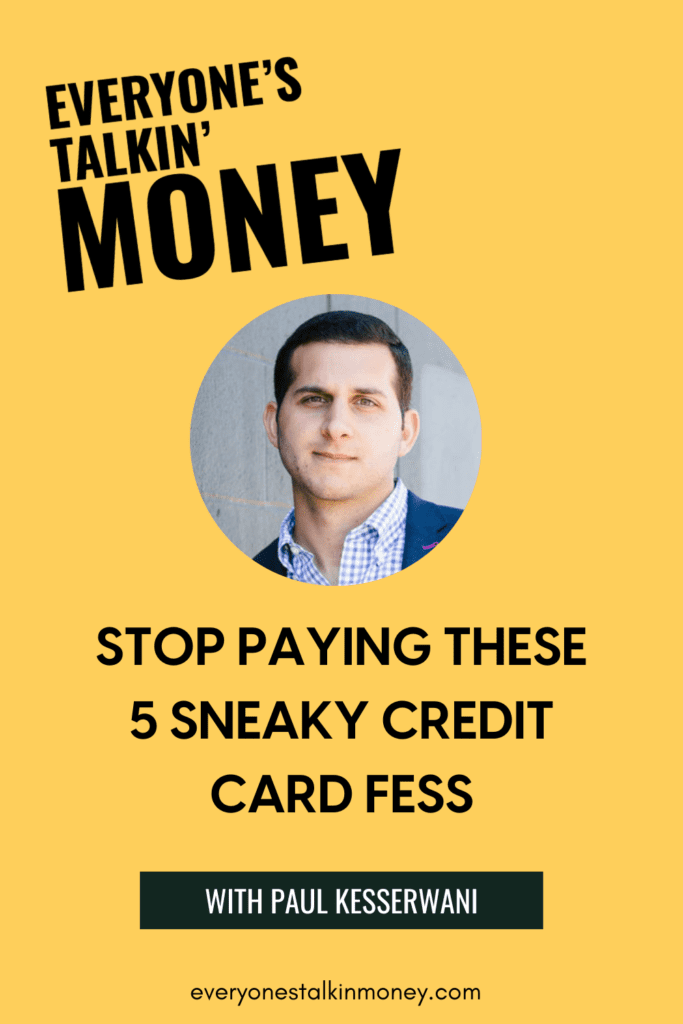 Links
Cushion https://cushion.ai
4 Hidden Costs on Bills That You Should Stop Paying https://cushion.ai/blog/hidden-costs-on-bills
Episode Sponsors
Thanks to Chime for sponsoring the show. Get started with Chime today. Applying for a free account takes less than 2 minutes. Get started at chime.com/mymoney.
Thanks to Wealthfront for sponsoring the show. To start building your wealth, and get your first $5,000 managed for FREE, for life, go to http://www.wealthfront.com/MyMoney
Thanks to Shopify for sponsoring the show. Shopify is more than a store. Connect with your customers. Drive sales. Manage your day-to-day. Go to http://www.shopify.com/mymoney for a FREE fourteen-day trial and get full access to Shopify's entire suite of features.
Thanks to Novo for sponsoring the show. Sign up for your FREE business checking account RIGHT NOW at novo.co/mymoney. Plus, podcast listeners get access to over $5,000 in perks and discounts.
Thanks to Issuu for sponsoring the show. Get started with Issuu today for FREE or if you sign up for a premium account you will get 50% off when you go to ISSUU.com/mymoney.
Thanks to Ladder for sponsoring the show. Go to http://www.Ladderlife.com/mymoney to see if you're instantly approved for Life Insurance to provide for your family if the unthinkable happens.
LEAVE US A REVIEW
Leave us an honest rating and review, pretty, please. Head to the podcast player you're listening to this episode in to leave us a review, or you can click here to leave a review for Everyone's Talkin' Money podcast on Apple Podcasts.
Love this episode. Share it with a few friends so they can learn these valuable money concepts as well. Be sure to FOLLOW and SUBSCRIBE to never miss an episode!
GOT A QUESTION?
Have a Shannah Shares question? Submit your question here https://bit.ly/shannahshares
MORE MONEY TIPS
Follow Me on Instagram for more money tips and behind-the-scenes information https://www.instagram.com/shannahgame
FREE GUIDES + RESOURCES
FAV MONEY APPS + TOOLS
Favorite budgeting apps – You Need a Budget & Monarch
Best High Yield Savings – Marcus & Ally Bank
Favorite online bank account – Chime
Best climate-conscious online savings & bank account – Aspiration
Best Business bank account – Novo
Personal loans – Upstart
Affordable Life Insurance – Ladder
DISCLAIMER: This podcast and money content is for educational purposes only. Always consult with your financial advisors prior to making money decisions. Please do your own research to figure out whether a financial product, tip or suggestion will work for your money goals. You can find a Certified Financial Planner in your area here.