Have you ever sat back and wondered, "what is the actual story of how and why money was created?" Well, I certainly have. In every episode of this pod we're talking about different ways to better your relationship with money and breaking down all the how-to's and how not to's with money. But, let's take a step back from that if you'll indulge me, and let's look at why we even use money in the first place. I think you can certainly agree that money has messed us up – it's divided us, it causes so much stress and fear, and money also has the power to create change and a lot of other good stuff.
It's a complicated story that our guest, Jacob Goldstein, author of the book Money: The True Story of a Made-Up Thing, former co-host of NPR's Planet Money podcast, and host of a new podcast called What's Your Problem took a deep dive into. Jacob's new book is a must-read riveting story of money with all its twists and turns. I'm going to let Jacob tell you more, like the story of how Marco Polo uncovered that people were using paper money and how it changed everything, and so many other juicy details that we chat about. Let's start talkin'.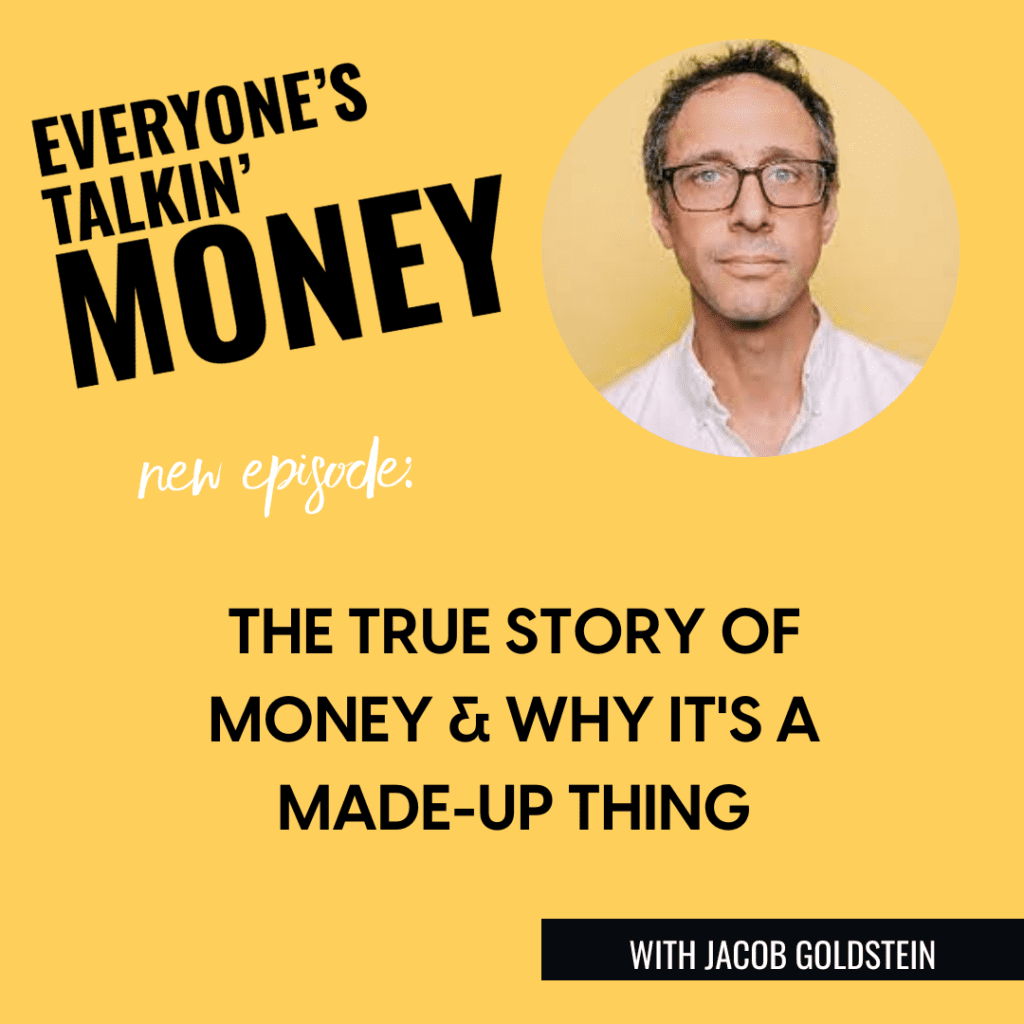 LINKS
Money: The True Story of a Made-Up Thing Book
SPONSORS
LEAVE US A REVIEW
Leave us an honest rating and review, pretty please. Head to the podcast player you're listening to this episode in to leave us a review or you can click here to leave a review for Everyone's Talkin' Money podcast on Apple Podcasts.
Love this episode. Share it with a few friends so they can learn these valuable money concepts as well. Be sure to FOLLOW and SUBSCRIBE to never miss an episode!
GOT A QUESTION?
Have a Shannah Shares question? Submit your question here https://bit.ly/shannahshares
MORE MONEY TIPS
Follow Me on Instagram for more money tips and behind-the-scenes information https://www.instagram.com/shannahgame
FREE GUIDES + RESOURCES
FAV MONEY APPS + TOOLS
Favorite budgeting apps – You Need a Budget & Monarch
Best High Yield Savings – Marcus & Ally Bank
Favorite online bank account – Chime
Best climate-conscious online savings & bank account – Aspiration
Best Business bank account – Novo
Personal loans – Upstart
Affordable Life Insurance – Ladder
DISCLAIMER: This podcast and money content are for educational purposes only. Always consult with your financial advisors prior to making money decisions. Please do your own research to figure out whether a financial product, tip, or suggestion will work for your money goals. You can find a Certified Financial Planner in your area here.