Raise your hand if you are as much of an HGTV junkie as I am? During the pandemic, I think I wore out HGTV, watching every single show and sometimes on repeat. I think if I had to choose another career, I would want to be an interior designer; I just love learning how to cultivate unique spaces. That's why I was so excited to chat with our guest, Brea Elles. Brea is a design and construction specialist and is on the upcoming HGTV show, "Buy It or Build It", creating and shaping interiors empathetic to each family's lifestyles. And yes, I did totally geek out. Brea is such a unique and special human who shares all her tips on how to remodel your home on a budget. We talk about why Brea says you should ask yourself why seven times – why do I want to remodel my kitchen, why do I think I want an open kitchen, why do I want to do this remodel now, etc. She also shares why you should spend money on the items in your house that you have an emotional connection to and that are going to make you feel happy when you're in your house. We talk about how to save money when you're remodeling, easy changes that will get you the best bang for your buck, how to create a home that truly feels authentic no matter what your budget is, and so much more.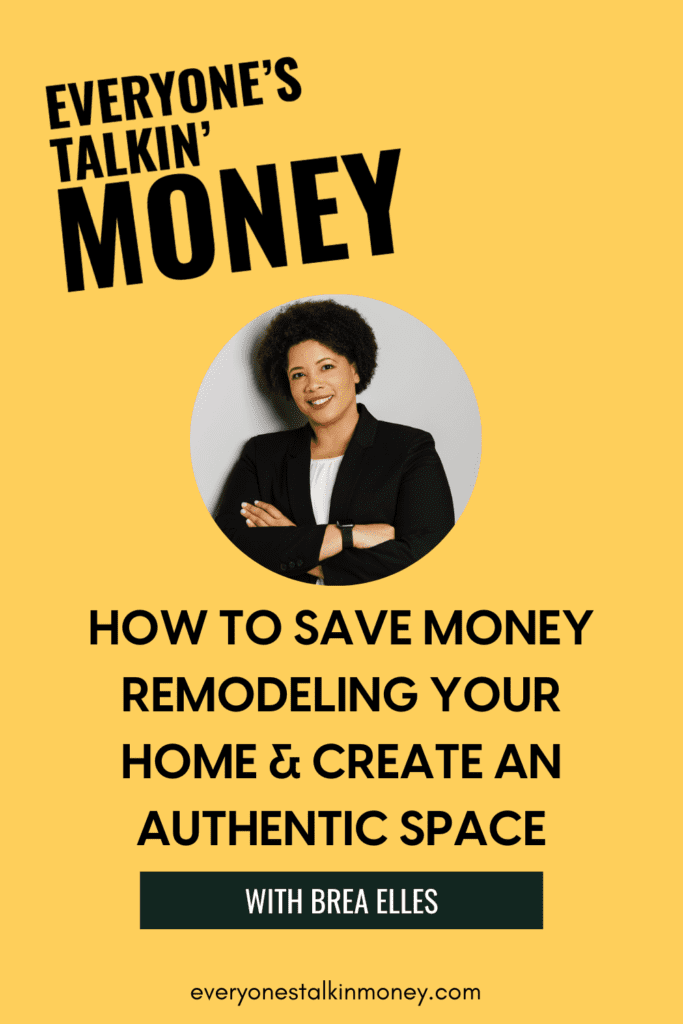 Links
Website: atelierhonnete.com
Episode Sponsors
Thanks to Gusto for sponsoring the show. Taking care of your employees is more important than ever. With Gusto, everything you need to hire, pay, manage, and support your hardworking team is in one modern solution: Gusto's people platform. Get 3 months free when you sign up at gusto.com/mymoney.
Thanks to Wealthfront for sponsoring the show. To start building your wealth, and get your first $5,000 managed for FREE, for life, go to http://www.wealthfront.com/MyMoney
Thanks to Shopify for sponsoring the show. Shopify is more than a store. Connect with your customers. Drive sales. Manage your day-to-day. Go to http://www.shopify.com/mymoney for a FREE fourteen-day trial and get full access to Shopify's entire suite of features.
Thanks to Novo for sponsoring the show. Sign up for your FREE business checking account RIGHT NOW at novo.co/mymoney. Plus, podcast listeners get access to over $5,000 in perks and discounts.
Thanks to Issuu for sponsoring the show. Get started with Issuu today for FREE or if you sign up for a premium account you will get 50% off when you go to ISSUU.com/mymoney.
LEAVE US A REVIEW
Leave us an honest rating and review, pretty, please. Head to the podcast player you're listening to this episode in to leave us a review, or you can click here to leave a review for Everyone's Talkin' Money podcast on Apple Podcasts.
Love this episode. Share it with a few friends so they can learn these valuable money concepts as well. Be sure to FOLLOW and SUBSCRIBE to never miss an episode!
GOT A QUESTION?
Have a Shannah Shares question? Submit your question here https://bit.ly/shannahshares
MORE MONEY TIPS
Follow Me on Instagram for more money tips and behind-the-scenes information https://www.instagram.com/shannahgame
FREE GUIDES + RESOURCES
FAV MONEY APPS + TOOLS
Favorite budgeting apps – You Need a Budget & Monarch
Best High Yield Savings – Marcus & Ally Bank
Favorite online bank account – Chime
Best climate-conscious online savings & bank account – Aspiration
Best Business bank account – Novo
Personal loans – Upstart
Affordable Life Insurance – Ladder
DISCLAIMER: This podcast and money content is for educational purposes only. Always consult with your financial advisors prior to making money decisions. Please do your own research to figure out whether a financial product, tip, or suggestion will work for your money goals. You can find a Certified Financial Planner in your area here.